Our Newest Book
K-9 Flash Becomes A Hero!
Most people don't think about what happens to police and military dogs after they retire, but Jason Johnson does. Johnson is a former police officer, military veteran, and now one of the nation's top K-9 experts. As he rose in his career, he became ever more aware of two things: (1) these dogs provide years of dedicated service for our safety and security, and (2) they are not afforded any kind of retirement benefits in return for their work. Johnson is working to change this through his nonprofit, Project K-9 Hero.
K-9 Flash is an illustrated children's book (ages 6-10) that tells the story of Flash, a sick and abandoned puppy rescued from the streets of Everett, Washington, by the Humane Society. Adopted by the City of Yakima Police Department, she went on to earn a perfect score in her K-9 training and serve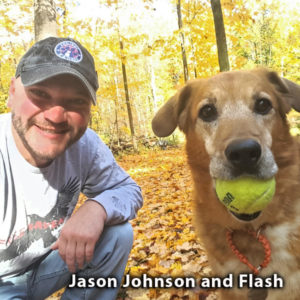 the department on more than 3,000 calls over the course of eight years. In addition, she was featured in dozens of community, school, and public events throughout her career. Now retired and 12 years old, she is the CCO (Chief Canine Officer) of Project K-9 Hero and Jason Johnson's faithful companion.
K-9 Flash is raising funds and awareness for Project K-9 Hero, with 100% of the royalties going to the nonprofit. You can buy the book at Amazon.com.
Contact us to learn more about sponsorship opportunities for the book, as well as booking Jason Johnson and Flash for events and media appearances.