Our Books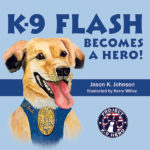 K-9 Flash Becomes A Hero!
Jason Johnson
K-9 Flash is an illustrated children's book (ages 6-10) that tells the story of Flash, a sick and abandoned puppy rescued from the streets of Everett, Washington, by the Humane Society. Adopted by the City of Yakima Police Department, she went on to earn a perfect score in her K-9 training and serve the department on more than 3,000 calls over the course of eight years. In addition, she was featured in dozens of community, school, and public events throughout her career. Now retired and 12 years old, she is the CCO (Chief Canine Officer) of Project K-9 Hero and Jason Johnson's faithful companion.
---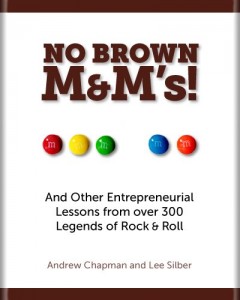 No Brown M&Ms!: And Other Entrepreneurial Lessons from over 300 Legends of Rock & Roll
Andrew Chapman and Lee Silber
"It's like Entrepreneurship 101 from AC/DC to ZZ Top!" As musicians and successful entrepreneurs, Chapman and Silber understand what readers really want in a business book—and its more backstage and less boardroom. Imagine learning business lessons from Jimmy Buffett instead of Warren Buffett, being inspired by the business savvy of KISS as opposed to Bill Gates, and discovering the business background of David Bowie instead of Donald Trump. There are countless books out there full of wisdom from the captains of industry, but No Brown M&M's! captures the unexpected business wisdom of our rock idols past and present. Not only have rock stars led interesting lives, their success leaves clues for entrepreneurs to follow. Success both in business and rock music happens for the same reasons, but the road to success in rock music is full of colorful characters and stories. No Brown M&M's! delivers rock-solid wisdom on outstanding leadership, promotion, marketing, customer service, sales, and more, as revealed by hundreds of legendary rock stars.
---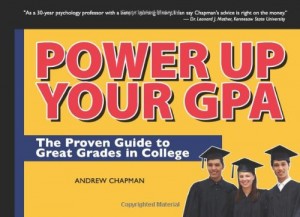 Power Up Your GPA: The Proven Guide to Great Grades in College
Andrew Chapman
The author earned both an associate's degree and bachelor's degree, each with a perfect 4.0 GPA, in only three years while working part-time. Not only that, his final six months of undergraduate study consisted of 33 credits, including nine at the graduate level. Through his college experience, Chapman developed a set of study skills and strategies that the typical high school grad simply doesn't have. Now he shares his practical, doable success strategies in dozens of quick and easy-to-follow tips that any student can follow. Skills emphasized include: • Time-management • Organization • Discipline • Effective communication.
In a partnership created around this book, Social Motion Publishing donated $2,000 to First Book, which allowed the nonprofit to put 800 children's books into the hands of underprivileged kids.
---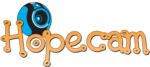 Coming Summer 2017 — Summertime Rhyme: A Boyhood Journey Through Summer Vacation
Dave Merrill
This collection of playful poetry will spark the delightful memories of summertime for kids and adults alike. Each poem will be wonderfully illustrated by children who have been helped by Hopecam, a nonprofit that uses video technology to connect kids undergoing cancer treatment with their friends and schools to alleviate the feeling of isolation. The book will be used to raise funds and awareness for the organization.
---
Coming Spring 2018 — The Heptagon Method
Alicia Bonner Ness
Nonprofits, causes, and social enterprises will discover a transformative process for developing and communicating their brand identities. As the creator of this method, Ness will walk readers through her seven-sided (heptagonal) program in order to arrive at greater clarity in communicating their mission, message, and motivation.
---
Books That Social Motion Publishing Has Helped Create
Every Day Is A Miracle: Lessons from Susan Rammekwa
Kaylea Butler
Written by a high school senior, this short book details the inspiration and wisdom she gained from a working with a social entrepreneur in Africa. All royalties from the book go to The Simunye Project, which helps young people learn about and work with positive role models such as Susan Rammekwa.
Stephen's Story: A 19-Year-Old's Life Lessons on Making the Most of Your Time
Stephen Sutton and Stefan Wissenbach
How would you use your remaining years if you were told you had an incurable form of cancer? Stephen Sutton faced this question way too early at the age of 15 and shares his answer in this book, written in his final days. (Hint: He made great things happen!) All royalties go to the Teenage Cancer Trust, to benefit teens and young adults in the United Kingdom battling and living with cancer.
You Can't Spend Pride: The True Story of a Family Business Defying the Odds
Ernie Clark Jr. and Mary Ann Clark, with Mona Kuljurgis
Starting and building a successful business is hard; starting and building a successful family business is even harder. Nearly 90% of family businesses fail in the hands of the third generation of ownership, regardless of their prior level of success—but this book shares how one multi-million-dollar company is beating the odds. All royalties go to the Cancer Research Center, in honor of the company's founder.
Slaying Dragons and Moving Mountains: The MAGIC Formula for a Happy, Fulfilled Life
Stefan Wissenbach
For more than 20 years, Wissenbach built an eight-figure net worth as an advisor to some of the most successful entrepreneurs and people in the world, and now he has distilled the secrets to their success into an easy-to-follow "MAGIC Formula." All royalties go to The Magic Future Foundation, a nonprofit building four Magic Future Schools on three continents to break the cycle of illiteracy and poverty.
Busting the Retirement Lies: Living with Passion, Purpose, and Abundance Throughout Our Lives
Kim D. H. Butler with Mona Kuljurgis
The concept of retirement may not be dead, but it's on life support. People are working later into their older years than ever before, but mainstream advice still pushes a 20th-century perspective on financial planning. This book (part of a series) challenges that perspective and what "retirement" means in today's world. All royalties go to the Prosperity Economic Movement, a nonprofit association of financial advisors committed to teaching the "whole truth" about money.